Complete ENT and Eye Care
We provide safe & compassionate care at its best for everyone.
Aashi Hospital is a modern setup, sectioned into a waiting area for patients and a consulting room for conducting an examination, indoor facility for admission, and two high tech ultra modern operation theatre separate for Eye and ENT services. The ease of location of the hospital, underground parking and lift facility contributes to patient comfort.  The hospital is well equipped with HD camera and endoscope unit, Ziess Microscope, latest anaesthesia work station, Coablation, laser machine, RF cautery and other latest instruments. Hospital offers ethical and affordable services based on strong clinical foundation in the management of spectrum of ENT and EYE cases .Apart from routine ENT work Dr. CS Kabra's expertise includes Endoscopic Nasal surgeries (FESS), Hearing restoration and Microscopic ear surgeries, Laser assisted Micro Laryngeal (Voice) surgeries, Snoring & sleep apnea surgeries, Plastic surgeries for Ear and Nose, and Thyroid surgeries. The hospital caters to the need of hearing abnormalities by having a full-fledged audiometry and Hearing Aid Centre.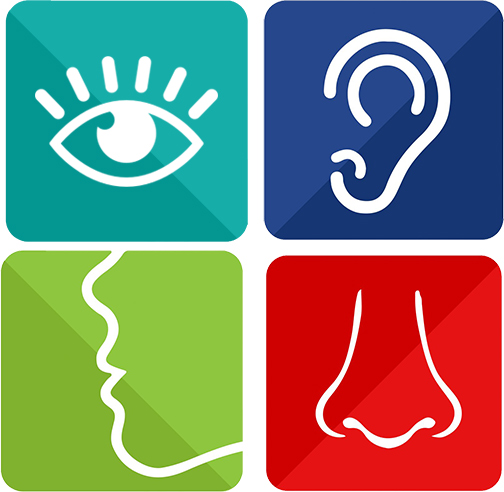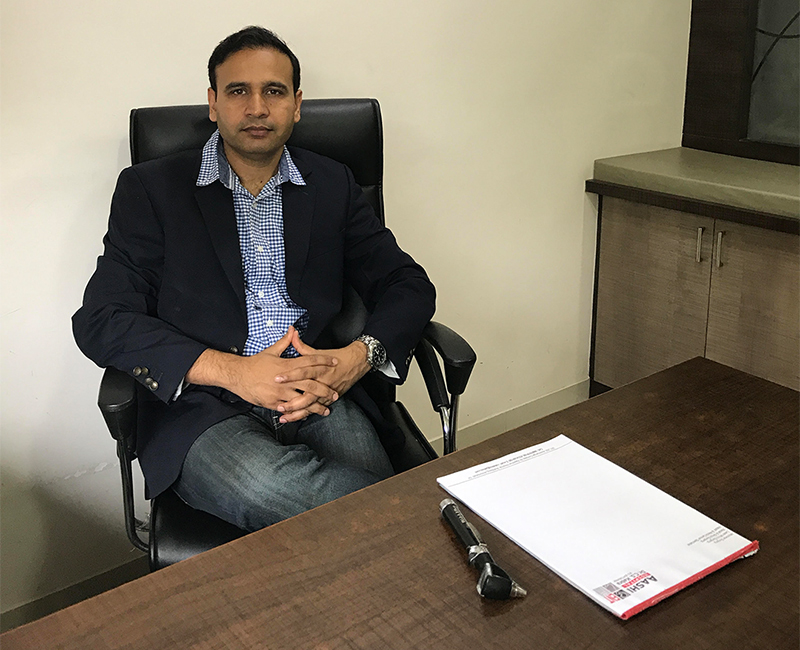 Dr. C. S. Kabra - M.S.(ENT)
( Director of Aashi Hospital )
Dr. C.S. Kabra – the owner and director of Aashi hospital has completed his higher surgical training in Otolaryngology and Head & Neck surgery from one of the best ENT Training Institutes.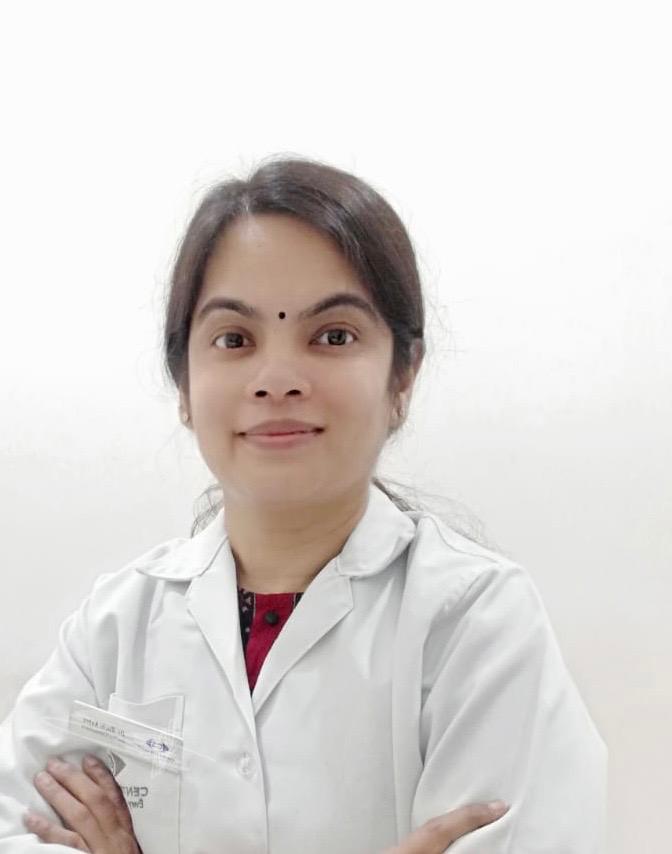 Dr. Ruchi Kabra - MS(OPHTHAL)
After doing MBBS Gold Medalist, Dr.Ruchi Kabra did MS Ophthalmology from SMS Medical College Jaipur in 2005. Then she worked as a fellow for Cataract and Phaco at Lions Karnavati Eye Hospital, Ahmedabad. She pursued her interest in Occuloplasty and did a fellowship from Nagri Eye Research Foundation, Ahmedabad in 2007.
The Centre is well equipped with all modern and hi-tech instruments and offers ethical and affordable services based on strong clinical foundation in the management of spectrum of ENT cases. The ease of location of the hospital underground parking and lift facility also contributes to patient comfort.
Cataract Surgery | Oculoplasty surgery | Ptosis Surgery | Eye Tumor Surgery | Squint Surgery
Squint is a misalignment of the eye where the two eyes are point towards different directions.
Ear, Nose and Throat (ENT) Surgeon
Modern surgery has developed to such an extent that the body of knowledge and technical skills required have led to surgeons specializing..
Sinus surgery is a procedure that aims to open the pathways of the sinuses and clear blockages.
These include hearing loss, tinnitus, ear infections, wax, ear pain, fluid in the ears, perforations of the ear drum, tumors, cholesteatoma, dizziness/Vertigo.
We evaluate and treat conditions such as Strep Throat, Mono, tonsillitis, tonsil enlargement, pharyngitis, snoring, tonsil stones, bad breath, trouble swallowing.
Lost eyes leading to cosmetic disfigurement can be corrected by implants and artificial shell insertion.
Cataract is a degenerative eye disease in which the natural crystalline lens inside the eye gets cloudy. 
We evaluate and treat conditions such as Strep Throat, Mono, tonsillitis, tonsil enlargement, pharyngitis, snoring, tonsil stones, bad breath, trouble swallowing.
+91 9687979100 +91 9374169100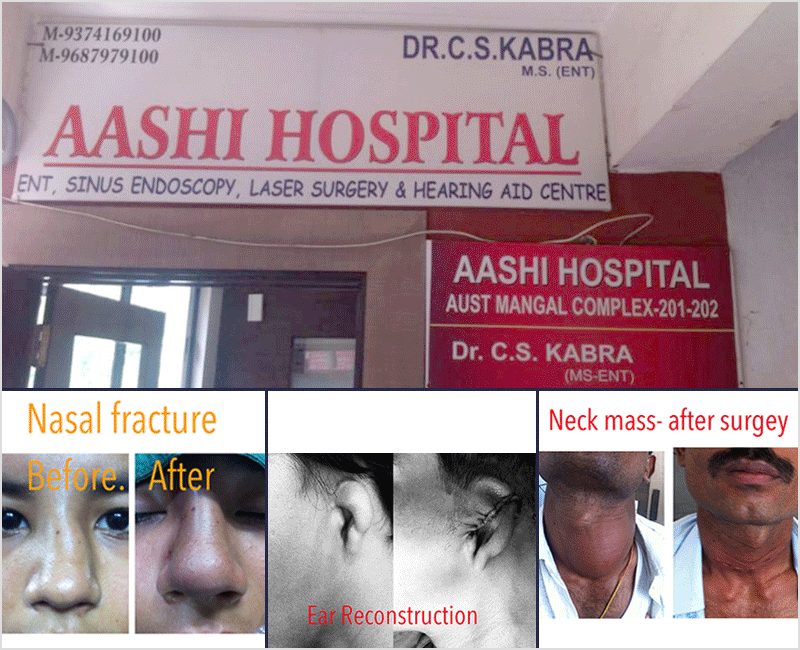 Looking for Quality Eye and ENT Treatment?
Come Experience the real life situations of saving life
Gaurav Mahulkar
2021-02-05
I believe there are two things required for any sort of medical issue. Trust on the doctor and behaviour of the staff. Post my experience, i have now a very good trust on Dr. Kabra. He shall be my first reference for any suggestion of any ENT specialists. The staff at this hospital is amazingly supportive. It wouldn't say it to be unusual to bless them once u receive their service. Blessings automatically come from heart. My daughter had accidentally put (fancy) button into her right nostril and she is 4 years old. Dr. Kabra came to the rescue and removed it with the help of anesthesia. Least painful and safest possible way. Thanks Dr. Kabra for helping us out in such emergency response situation.
I had gone to aashi ent hospital for my nasal surgery.Dr c s kabra has done the excellent surgery on me.my nose is fully open.i highly recommend Dr c s kabra for all ear,nose and throat surgery.he is best ent surgeon in my view.. thanks a lot sir.
This is very clean and great hospital... And Dr.Kabra sir is very intelligent and good person.. i got instant relief by his consultancy.. and hospital's staff is very supportive .... overall nice facility with good doctor and staff
Visited the hospital for some ear problem...extremely professional doctor in a friendly atmosphere...strongly recommend to all...☺️
I have stone in mouth and kabra sir has suggested small surgery for the same Firstly I scared but after the surgery feeling great full and amazing experience by kabra sir by nature and them work skill and communication with patient
Saurav Solanki
2020-12-16
Very good and nice
Manjula Tiwari
2020-12-15
Great doctor . outstanding work 👍🏻.doctor explain nicely and good cear of the patients 👌.. clean hospital & excellent health cear...I am feeling better today my ear operation successfully & I am absolutely find 😊 thank you Dr kabra sir 🙏
VERY INTELLIGENT DOCTOR MR KABRA SIR I HAVE VISITED 3&4 HOSPITAL BUT NOT CERTIFIED BUT I HAVE VISIT ASHI ENT HOSPITAL MR KABRA SIR GOOD SERGEN FOR ENT NO PAN FOR PASENT AND REGNABLE PRISE AND VERY GOOD STAFF VERY SAFE HOSPITAL DUE TO COVID19 AGAR MUJHE 100%DENA HO TO 100%ME 110
pramila motwani
2020-10-31
I was suffering from nasal pain due to blockage of nose and was afraid of surgery but the doctor gave me the confidence and satisfactory treatment.. I m glad that i chose this place for my treatment Thankyou D.r kabra for amazing services.I like to recommend your clinic to all the people who are suffering from some problem and i am sure they will get satisfactory result... Good wishes..
My daughter's nose surgery was done by D.R Kabra and I am very satisfied with the treatment..Best Doctor Best services..highly recommendable.