Aashi Hospital is a modern setup, sectioned into a waiting area for patients and a consulting room for conducting an examination, indoor facility for admission, and two high tech ultra modern operation theatre separate for Eye and ENT services. The ease of location of the hospital, underground parking and lift facility contributes to patient comfort.  The hospital is well equipped with HD camera and endoscope unit, Ziess Microscope, latest anaesthesia work station, Coablation, laser machine, RF cautery and other latest instruments. Hospital offers ethical and affordable services based on strong clinical foundation in the management of spectrum of ENT and EYE cases. Apart from routine ENT work Dr. CS Kabra's expertise includes Endoscopic Nasal surgeries (FESS), Hearing restoration and Microscopic ear surgeries, Laser assisted Micro Laryngeal (Voice) surgeries, Snoring & sleep apnea surgeries, Plastic surgeries for Ear and Nose, and Thyroid surgeries. The hospital caters to the need of hearing abnormalities by having a full-fledged audiometry and Hearing Aid Centre.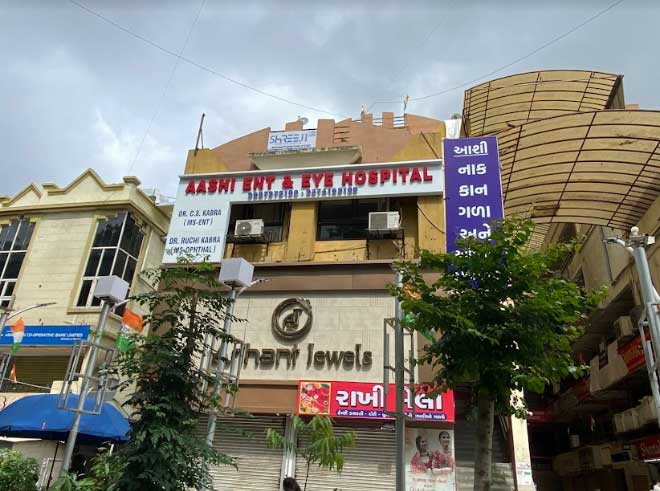 Best ENT and Eye Specialist Hospital in Ahmedabad
Along with routine EYE care services. We offer the latest technology for cataract removal with the new generation intraocular lens implants which include MONOFOCAL, MULTIFOCAL,TRIFOCAL, EDOF and TORIC lenses. Dr. Ruchi Kabra also expertise in treating Oculoplasty disorders related to eyelids like Ptosis, lacrimal system, orbit, squint, ocular oncology, and ocular surface diseases. Pediatric eye care and myopia treatment in children is taken care of along with Refractive solutions like Lasik and ICL to provide freedom from glasses to patients.

Tag : Centre for Audiology and Hearing Aids | Nose and Sinus Surgery | Ear, Nose and Throat (ENT) Surgeon | Best Head and Neck Cancer Specialist